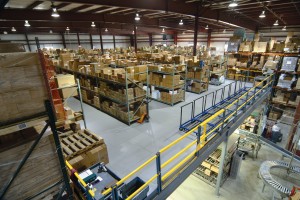 Storage Mezzanine
Your warehouse floor space is valuable and should not be cluttered with boxes, bins, and rarely used equipment. But often, when space gets tight, the clutter just builds and builds.  The result can compromise worker safety and affect facility efficiency.
Before looking into the costly option of having to moving in order to gain that needed space, consider the option of adding a storage mezzanine to your facility first.
When combined with our storage shelving or modular cabinets, a storage mezzanine is:
a quick, easy, and affordable way to create additional storage space out of the overhead area above the floor space of your warehouse.
the perfect solution for your always changing storage needs, since you can add on to them, move them, and reconfigure them to reflect your current needs.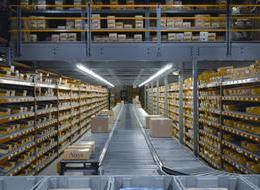 Whatever your storage needs might be, we can custom design your mezzanine to work around the existing layout of your warehouse and make sure it meets your area, height and load requirements.
Call today and one of our mezzanine experts will provide you with a free consultation about how Grace Material Handling can help you solve your storage space problems.