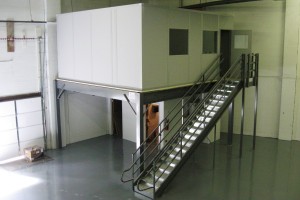 Office Space
Are you in need of more office area for your facility? Before you start look into the idea of a costly relocation to a larger, more expensive location, consider using mezzanines to increase your office space.
With the use of a mezzanine, your warehouse will double its functionality without interrupting your floor space. When paired with modular offices, a steel mezzanine is the ideal solution to your need for more office space.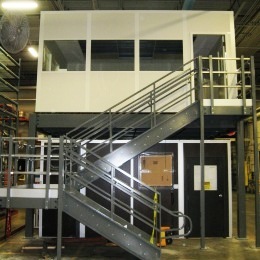 A mezzanine and modular in-plant office will:
Prevent the usage of valuable floor space
Be less costly than traditional construction and easier to install
Provide you with excellent views into your warehouse
Have stair treads and hand rails that are pre-assembled for fast installation
Have structural steel columns independent of walls for maximum flexibility
Provide a variety of sound controls
Have fire retardant designs for up to a one-hour rating
Be insulated to be energy efficient
Contact us today to speak to one of our representatives about a free quote for your mezzanine and modular office today.