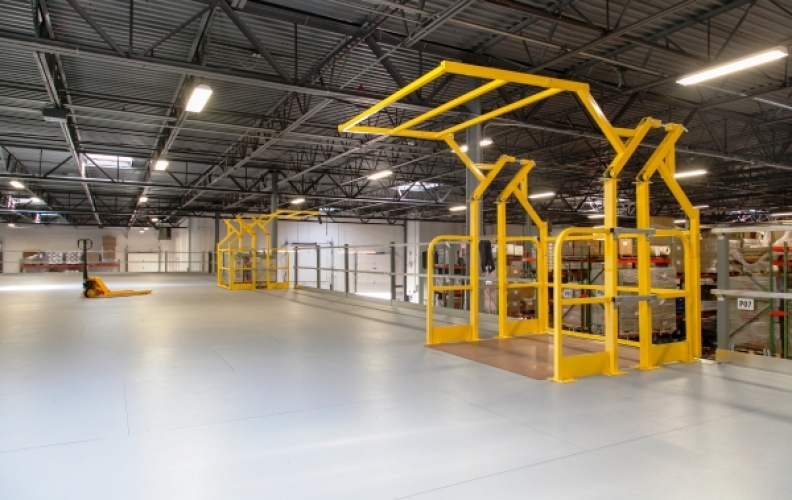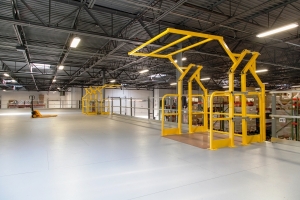 Challenge
Colony Hardware is an industry leading supplier offering tools, equipment, fasteners, supplies, safety products, as well as rental and repair services to commercial construction and industrial accounts. In order to fill all of these roles, they stock over 25,000 different products from over 750 different manufactures. This allows them to be the one stop source for all your hardware needs.
In 2012, Colony Hardware had moved into a new 103,000 square foot facility in Orange, Connecticut, but they were already running out of space! In order to gain additional space in their warehouse, they contacted The Mezzanine Company to provide a solution that would maximize the abundance vertical space they had available.
One of the biggest challenges was that all of the work would be taking place in an active warehouse and we had to make sure that our solution did not disturb any of the work that went on.
Solution
We started by sending our technicians out to the location multiple times. Utilizing engineered and CAD drawings to confirm all measurements of the area, they mapped out the entire space to make sure that everything was designed to fit and match up exactly where needed. We incorporated the existing layout of the area into these drawings as well, allowing us to pinpoint beforehand where our columns and braces would be. These same measurements and drawings also allowed us to incorporate two existing staircases, with slight in-field modifications, into the mezzanine system.
In total, we were able to gain them over 16,000 square feet of storage space! We did this by lining up exactly against walls on four of the six sides of the storage mezzanine. The mezzanine was also designed with cutouts, in the middle, around nearly a dozen building columns to create an uninterrupted floor across the entire platform, helping to maximize the space gained. Our drawings and measurements played a very important role here, as well allowing us to design our columns to avoid falling in any doorways, transformers or other obstructions along the walls.
This storage platform was also designed with a clear height of over 10 feet to allow the shelving units below to remain unaffected by it. The only change Colony Hardware had to make to their current setup was to move a few sections of storage rack to make room for our columns.
For the movement of larger materials to the mezzanine, we added two 5×5 safety gates, which we lined up with the existing aisles from their receiving area, making it easy to bring new products to the platform. For the transfer of products down from the mezzanine, we worked with another vendor to incorporate a conveyer system into our mezzanine. This conveyor was used to transport products that had been picked for orders to the shipping area.
To avoid any interruption to the operation of the warehouse during the installation process, we arranged for our installers to only work nights and weekends! This allowed the warehouse to continue functioning as usual during the entire mezzanine installation process. Also, during the process, we provided PE stamped drawings for the state of Connecticut, as well as sample engineered drawings, to help with the approval process. By working closely with all parties involved, we succeeded in supplying a complete storage system, custom fitted to Colony's needs, without interfering with their current operations.